A new way of beauty!
These earrings are perfect for pairing with a casual outfit or dressing up.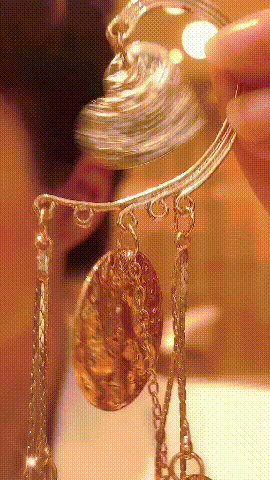 0- $20, $9.99 for shipping. $20.01-$30, $7.99 for shipping. $30.01-$39.99, $5.99 for shipping. Free shipping over $40.
Grab yours now before sold out!
And here are more jewelry for only $3.99. You can get them here: https://us.life-pigment.com/collections/399-on-sale
 These gorgeous earrings look stylish and elegant ! !
specification:
Material

 

: S925

Needle+Gold plated charms
Products include:
1 pc earring (not a pair)
Returns:
Returns are only accepted for unworn items that were very different from the item shown in the picture. Returns are not accepted for items that you do not want anymore, or that you don't like anymore. If the item arrives in good condition, and has no flaws (note that raw brass and vintage charms will not be perfect and may have blemishes), we do not accept returns, nor do we refund you for this reason. If your item arrives broken, we will send you another item or refund you
Care tips for every item:
-Keep dry, avoid getting wet. If your item comes in contact with water/ becomes wet: immediately dry thoroughly with cloth, and place either in sunlight to dry, or in front of an air source to dry completely. Please note that our items are mostly gold plated brass unless stated otherwise, and are not meant to be wet, as this will likely cause the color to tarnish.
-Remove before bed: to ensure the longevity of our more elaborate earring designs, it's encouraged that they are removed before bed to ensure that they stay intact, and don't poke you while you sleep.
-Store in a dry and safe place. Avoid keeping your jewelry in a damp setting such as the bathroom, or near water. It is recommended that you place them safely in a trinket dish, or a designated area to make sure your earrings stay beautiful longer.

About price:
Factory outlet,very very low margins,limited stock.pls kindly note: considering the cost, we won't use gift box for package

Shipping times:
Delivery within 8-24 hours after payment.
-US: 3-12 days, may take longer with unprecedented delays.
-UK: 2-3 weeks, may take a long time due to customs.
-Most of the EU: 2-4 weeks, may take a long time due to customs.
-Australia: 3-4 weeks, may take a long time due to customs.
-Asia: 3-5 weeks due to customs.